StableHost Background
StableHost is different from most sit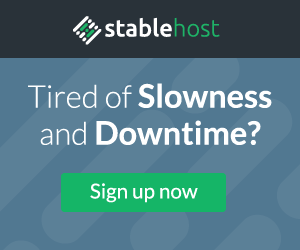 e hosting companies. Whereas some companies have hundreds, maybe even thousands, of employees, StableHost has a staff of about ten people. It's privately owned and debt-free, and has been growing since it began in 2009. All revenue goes back into the business so that it can continue offering new features to its customers.
 StableHost runs the industry standard control panels for web and VPS hosting. It does this to make it as easy as possible for customers to manage their websites and not have to re-learn a control panel when switching. StableHost also runs top-of-the-line hardware. At any given time, it's running at least 32GB of RAM, dual E5 CPUs, SSD drives and RAID-10. All this isn't cheap, but it allows StableHost to live by its name – Stable…Host.
 Why Host With StableHost?
The company maintains three different locations (Phoenix, Chicago and Amsterdam) where a customer's website can be hosted. A site's speed is critical; the farther away one's website host is from one's target audience, the slower one's website will be, which can lead to lost visitors and lost sales. StableHost invites customers to test all three locations and determine which is best for the customer's particular application.


Web hosting package options are limited to two. The first is Shared Web Hosting at $3.95 per month. This includes 24-hours-a-day, seven-days-a-week, 365-days-a-year support via email, one full CPU core and ten MySQL connections. The second option is Enterprise, which includes 24/7/365 phone and email support, two full CPU cores, 50 MySQL connections, script troubleshooting, hacked/compromised repair, spam filtering and up to 25,000 emails per month.
For people who have outgrown shared hosting, Virtual Private Server (VPS) hosting packages are available as follows: VZ 1GB runs $9.95 per month and gets you 1024MB of RAM, one CPU core, 40GB of disk space, and 2TB 1000 Mbit. For medium-sized sites or heavy blogging applications, VZ 2GB is available for $14.95 per month, with 2048MB of RAM, two CPU cores, 60GB of disk space and 2TB 1000 Mbit. For large sites and gamers, VZ 4GB is priced at $29.95 per month and includes 4096MB of RAM, four CPU cores, 100GB of disk space and 4TB 1000 Mbit.

StableHost also has its own family of forums specifically for its customers. The forum is split into three sections: Community, Support and General. Here, users can share ideas with one another as well as with tech support. Customer support turns technical tickets and questions around more slowly than other providers do, and tends to operate under the assumption that the customer will fish for answers in the forums.
Stable Host Coupon Code: GRSALEOFF
It's true that a small staff makes tech support one of Stablehost's weaker attributes. However, if you don't anticipate many problems, if you're able to do some of your own troubleshooting or if you generally don't need a lot of tech support, Stablehost could be an excellent value for the money.